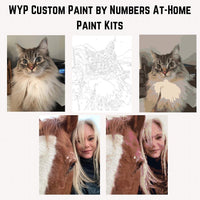 WYP Custom Paint Kits
You choose. ANY IMAGE. One from our WYP Gallery or upload one of yours! We'll create a paint kit just for you, personalized with a pre-sketched image and all supplies needed to complete your painting including brushes and paints.
FOR PICK-UPS: You will receive an email once you order is ready. Pick-up is available 11am and 8pm Mon-Sat by drive thru.
FOR LOCAL DELIVERY: If order by 5:00 pm our goal is to get your order out the same day depending on demand.
NATIONWIDE SHIPPING AVAILABLE.
Order Now